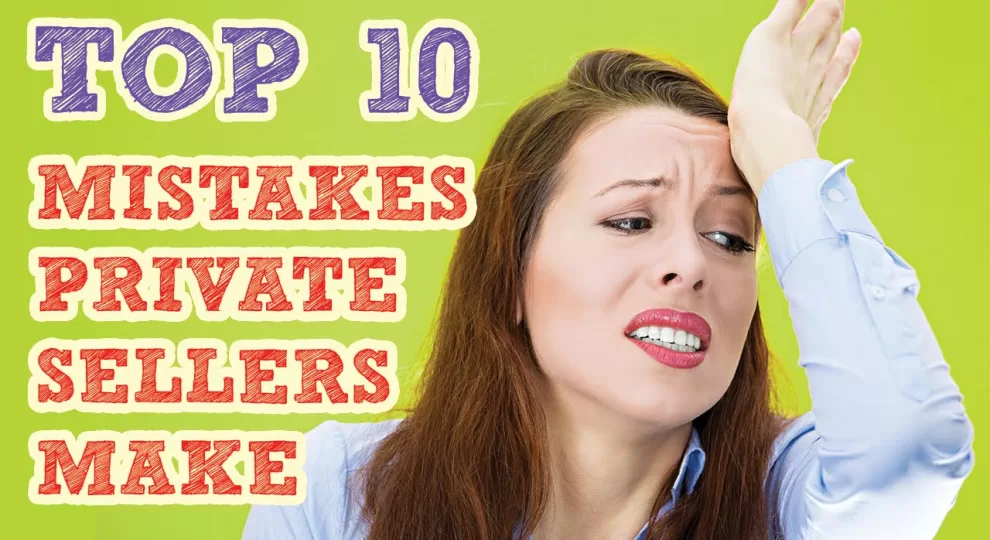 Top 10 Mistakes Private Sellers Make
1. Not getting good help
The company you choose to assist you with your marketing can significantly affect the outcome you achieve so you should research your options thoroughly. Focus on customer service, longevity, success rate, and how the company deals with your enquiry.
2. Overpricing
This is one of the worst mistakes you can make. At the end of the day, your property is worth what buyers in the current market are willing to pay for it. Do your research and get your price right from the start.
3. Not thinking about presentation
It's important to remember that you're not just selling four walls and a roof. You're also selling a dream or a lifestyle. You don't necessarily need to fully stage your home but you should make sure that everything is tidy and decluttered before photos and inspections. This can be as simple as mowing your lawn or putting away the dirty socks someone left in the bathroom!
4. Being too emotionally invested
When you decide to sell you should make a mental decision to "let go" of your home. It's easy for emotions to cloud your judgement so it's also important you take a step back and listen to feedback and criticism without taking it personally. Feedback from one buyer can enable you to address issues that might prevent a future sale.
5. Not playing the long game
Any enquiry or offer could end up being "the one" so be sure to take the time to respond promptly, helpfully, and politely. If you get an offer that's too low, explain why you're firm on your asking price and encourage further dialogue.
6. Not maximising your exposure
Your sale should not be a secret! The more eyeballs that see your property, the more chance of someone buying it. As a minimum, you should have a listing on realestate.com.au and a for sale sign. You should also consider things like flyers, listing upgrades, print advertising, and international real estate websites.
7. Not being available
In the initial interest stage buyers often aren't too attached to your home so you need to make it easy for them to get to the next step. Ideally, you should aim to take all calls from buyers but at worst, if you miss a call, buyers should be able to easily leave a message, and you should call them back as soon as possible.
8. Not knowing what to do next
Too often sales fall down because sellers don't know how to respond to an offer, or don't have the appropriate paperwork ready. Don't let this be you, as soon as you decide to sell, choose a solicitor, conveyancer, or settlement agent who will handle the legal side of things – and make a plan for handling any offers that do come in.
9. Not being aware of problems
Don't waste time and money marketing your property only to have a sale fall through because a termite problem is discovered, or there's a problem with the paperwork for the extension you added on last year. Have a building and pest inspection done in advance so that you can resolve any issues or factor them into your price.
10. Not asking for help
There are lots of things that can affect your chance of success so if you're at all unsure of something, get help with it right away from someone who knows what they're talking about.