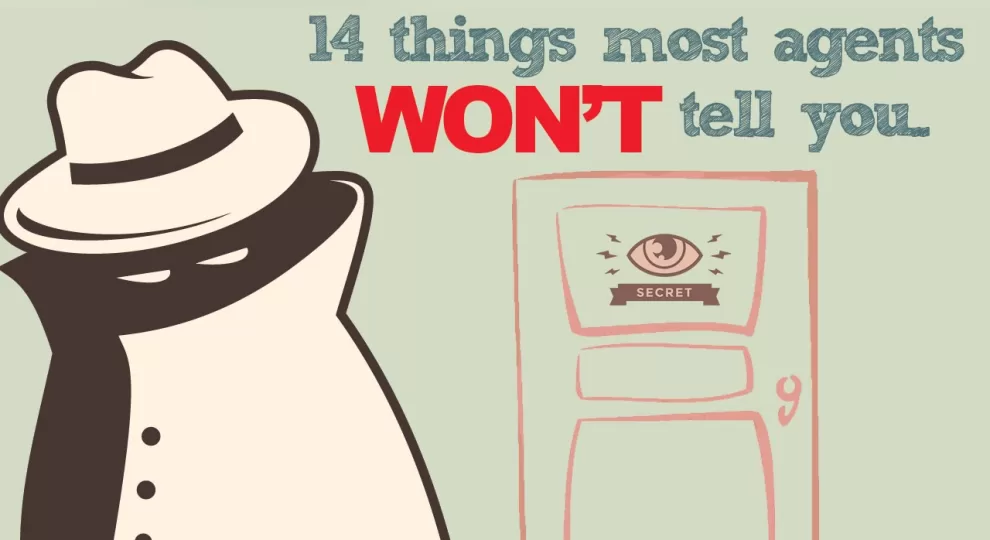 14 things most real estate agents won't tell you
Is hiring a realestate agent the right strategy for you?
Australia tends to have a love/hate relationship with real estate agents.
Do we trust them? Not really. Do we hire them to sell our most prized assets? Often.
But here's the thing.
There are some things real estate agents will be reluctant to tell you when it comes to selling property because they know they'll lose money or risk landing the sale of your property altogether.
We think you have a right to know what these things are, so you can make an informed decision about selling your home and the best way to do it.
A realestate agent's commission rate is negotiable.
While an agent will tell you most clients pay a certain percentage rate, this rate is absolutely negotiable. The internet has made real estate agent jobs easier than ever because buyers are so accessible. Think about that during your negotiations.
You should also consider your home's price range. There's very little difference in workload to selling an $800,000 house or a $5 million house – yet the agent's commission is considerably different.
Your marketing campaign supports their marketing campaign.
Ever seen a house advertised without the real estate agency's branding slapped all over it? You pay for those expensive print campaigns prominently featuring your agent's logo! Have no doubt about it… real estate agencies do very well out of their clients' marketing campaigns.
Becoming a realestate agent is easy.
In some states, the training and certification to become a realestate agent can be completed in a matter of days. Make sure you quiz your agent about their education and experience. Can they justify that huge commission?
Many houses sell themselves.
Agents don't have any special tools that 'make' somebody buy a house. Buyers tend to buy houses they like and can afford. Present your home well and it will sell quickly and easily – with or without an agent.
These days, local market knowledge is available to everybody.
Thanks to websites like realestate.com.au and Domain, you can get all the market info you need to sell your house, including suburb snapshots, previous sales data, demographic info. You can even buy the same detailed property and suburb reports that agents use from RP Data if you want to.
An agent's 'database of buyers' is defunct.
These days, buyers don't tend to sit around waiting on real estate agent's databases to learn about properties coming onto the market. Buyers in the market are constantly changing. They're also extremely active online doing their own research. This means any buyer sitting on an agent's database are either no longer in the market, or you can access them directly.
Some agents are guilty of pricing up your house.
The real estate industry is extremely competitive. Agents have to compete against other agents to win your sale. They know that money speaks and you're more likely to sign with them if they value your home higher than the next agent. They also know they can gradually beat you down on price after you sign an exclusive agreement with them. Don't fall for it.
Some agents are guilty of pricing down your house.
While this practice (what we call underquoting) is now illegal in most states, it's still happening. Underquoting is when an agent underquotes the value of your home to buyers to broaden the pool of interest. The problem here is that it alienates buyers and wastes their time. And why advertise to buyers who simply can't afford your home?
They may pass on your enquiries to other properties.
Yours is not the only property your agent is trying to sell. If they have a buyer who likes your property, but isn't 100% sold, they may redirect them to another property if they think it's going to be an easier sell.
Agents can compete with other agents from the same agency.
Most agencies tend to split your commission between the agent who lists your home, the agency itself and the agent who sells your home. The downside is, agents may not refer buyers to the property of another agent within the same agency if they're likely to miss out on commission. And that means your pool of buyers shrinks.
Agents don't handle your paperwork.
It's actually your solicitor or conveyancer who handles all or most of the legal paperwork to do with your property sale. While some agents may fill in the front page of the contract, the solicitor does the heavy lifting and can do all of that work on your behalf without you paying an agent as the middleman.
An exclusive agreement binds you to paying commission.
Let's just say you introduce somebody to your property who ends up buying it, or you sign with another agent because the agent you signed an exclusive agreement with does a poor job. The problem is, under that exclusive agreement, you may still be required to pay commission – regardless of whether your previous agent found your buyer or not.
It's no longer a necessity to use a real estate agent to sell your home. Technology has changed everything, and it now makes much more financial sense to handle your property sale privately.
We can help. It's our mission to show Australian homeowners how easy it is to sell their properties themselves. We've got great advice, checklists, step-by-step guides and more to get you started – call our friendly team on 1300 664 773 today!