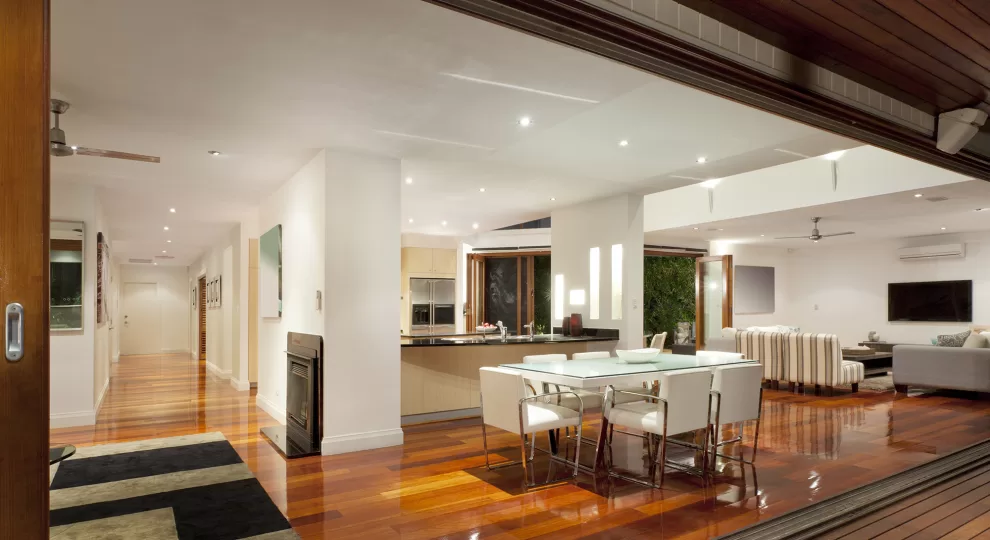 Step by step guide how to sell your home online
Everything you need to know in our home selling guide – just 8 simple steps.
Thinking about selling your home online? Follow these steps to ensure you have everything covered.
Step 1: prepare your home.
You've decided to sell. First step is to get your home in order. De-clutter, tidy-up your garden and re-arrange furniture so every room presents well. For more advice about how to present your home for sale, read our article 4 simple, effective home staging tips to sell your home .
Step 2: set a sales price.
The thought of setting a sales price can make some people a little fidgety. Actually, it's not that bad. We recommend using these 2 methods –
Get an evaluation . They're more accurate than an appraisal by a real estate agent because they rely on the facts and have no sales motive. A professional evaluation will cost you anywhere between $300 and $500, or you may choose to use PropertyNow's free valuation service which incorporates:
An estimated value of your property
Key property information
Full sale history for your property
Listing advertising history
Recent comparable sales
Area profile and stats
Look up sales prices for similar properties in your area. The best way to do this is to buy a suburb sales report from a research company like RPData or Australian Property Monitors. You should also keep your eye on current local properties for sale. They'll give you a good idea of how to price your own home so long as you compare relevant properties, similar in size including land size to yours.
The good news is, if you get your sales price wrong you can always make an adjustment. Buyers are very quick these days to let you know your sales price is too high. It can also become obvious when your price is too low and you have buyers fighting each other to make offers!
Step 3: decide on your sales platform / provider
While there are a few private selling platforms in Australia, we hope of course you'll choose PropertyNow. We've helped thousands of Australians sell their own homes successfully online since we first established in 2006. Unlike some of our competitors, we've secured arrangements with all the major real estate portals like realestate.com.au and Domain to list your property. And we offer an honest, reliable, diligent service, saving you expensive agent commissions and unnecessary advertising costs. Check out our guide on how to compare providers.
Step 4: hire a conveyancer.
Conveyancing is the process of transferring a property from the seller to the buyer. Even though you can buy 'do-it-yourself' conveyancing kits, we recommend you hire a professional. Conveyancing may seem simple on the surface, but if you don't know what you're doing, you could open yourself up to legal risks. A professional conveyancer understands all the legal requirements associated with the sale of your property. Their services will cost you anything from $500 to $1000 and this includes preparing your vendor's statement (otherwise known as Section 32).
Step 5: market your property.
The first step to marketing your property is taking great photos and creating a floor plan. This can be a little daunting for some, but there are some amazing online tools like Box Brownie to help you produce high quality photos as well as a floor plan for a very reasonable rate. Your chosen provider should also be able to arrange photography for you if you desire.
There's a simple rule when it comes to marketing your property. Forget you're the seller and put yourself in your buyers' shoes. What's the primary selling feature of your property? How can you turn that into an ad headline that appeals to potential buyers? Think about describing your property in terms of lifestyle. What are the benefits to buyers? Help them visualise what it's like to live in your property.
Of course, then comes the advertising. These days, people are quick to spend thousands marketing their property through expensive print campaigns.
But here's the thing.
Nowadays, over 80% of Australians research buying property online. With that in mind, the single most important element of your advertising campaign is getting your property listed on the large real estate portals like realestate.com.au and Domain.
Other than that, really all you need is a for sale sign (included free with PropertyNow's service) to create a buzz among neighbours and your local community. There are many other forms of marketing you may choose to adopt, including social media , but what we've outlined above is a great place to start if you're trying to save costs.
Step 6: find a buyer.
Part of securing a buyer involves you being contactable. Sound easy enough? The problem is, we lead busy lives. Often, it's a juggling act between work, friends and family. Being available to potential buyers for the duration of your sale isn't actually that easy. It might help setting up a temporary stand alone mobile number so that when it rings you know it means only one thing – potential buyer! Because it's not possible to be contactable all the time, make sure your chosen provider logs and notifies you of all enquiries for follow up.
If you decide to run open house viewings, it's worth scheduling them in line with other viewings in your neighborhood. This way, you can leverage off interest generated by other properties and make it convenient for buyers to factor viewing yours into their schedule. Check out our video tutorial on how to run an open house.
On the other hand, you may want to consider 'inspection by appointment'. The one-on-one opportunity offers greater intimacy and control. You can give interested buyers your sole attention and avoid time-wasters who drop into your open house with no intention of buying.
Step 7: negotiate a sale.
"Let us never negotiate out of fear. But let us never fear to negotiate." JFK
When it comes to selling a house, negotiations begin before you start discussing price. When the first prospective buyer makes an enquiry, whether online, over the phone or in person. And here's the thing. You have more confidence negotiating when it comes to your own property because you understand it so well. You know its best features and what it's like to live in – no real estate agent can tell you that. A confident negotiator understands what they're selling and what their limits are.
When it comes to negotiating price, you want to be aware of your bottom line – the absolute minimum you're prepared to go. You've already given an indication of price to buyers in your advertisements, now you want to know what their best offer is.
Even better, get it in writing.
Once you have their best offer, you have a place to negotiate from. When you can both come to an agreement, it's time to sign the contracts (already organised by your conveyancer). Learn more about how to negotiate with buyers in our video tutorials.
Step 8: settlement
Settlement is the last stage of your sale, when the buyer makes final payment and takes legal possession of the property. Settlement usually takes place between 3 and 9 months after the sale date, depending what's stated in your contract.
Interested in selling your home online? We can help. List your property today – it's easy, simple… and very reasonable!